Quality, Convenient, Discreet
2020 was a year most of us will never forget. For us-this is when ECO really took shape.
Through high school-our founder-had a long history of stomach issues and found through trial and error that CBD and Delta 8 helped ease symptoms. In April of 2020, we found ourselves in a new and scary health situation. Our founders mom was diagnosed with breast cancer. She found that a combination of various CBD and Delta 8 products helped with pain, nausea, sleep and anxiety. Through various support groups we found that cancer survivors, veterans and other people with various ailments both physical and psychological have found comfort and relief in cannabis products. We found that there were many products available but quality wasn't always reliable.
Shortly after, East Coast Oils (ECO) was born.
It has become our mission to provide high quality cannabis products for both recreational and wellness use.
Resarch Shows CBD Can Begin to Relieve Pain
in as Little as 15 Minutes
Better Living Through CBD
CBD addresses other day-to-day health conditions that plague us on a regular basis. If you have stress, lack of sleep or being able to stay asleep, CBD can help you.
Read any CBD product testimonials, and you'll see that people claim CBD has helped with a slew of health conditions—including back pain, psoriasis, osteoarthritis, and even cancer.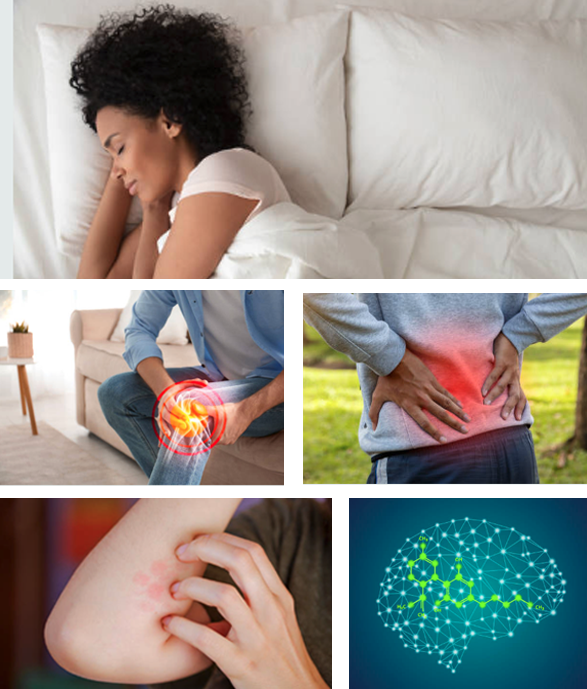 CBD & Recovery: From Diabetes to Infections
CBD may help enhance recovery of slow healing wounds from diabetes, or other
conditions. Additionally, CBD's antifungal and antibacterial properties, can speed
up recovery times and fend off infections.
When using CBD for wounds or blisters, you may want to apply a lotion or salve
directly to the affected area rather than ingesting it. This helps create a protective
barrier around the injured skin and ensure that nutrients are distributed where they
are needed most.